After long technical innovation & expansion, transparent LED displays have been accepted widely by the consumers all over the world. With the benefits of excellent heat indulgence, quick installation, high brightness and transparency and easy upkeep, transparent LED display could be employed behind any silhouette of glass surface, and sustain the internal natural illumination & viewing, that's why it's the finest option in terms of glass LED screen advertising.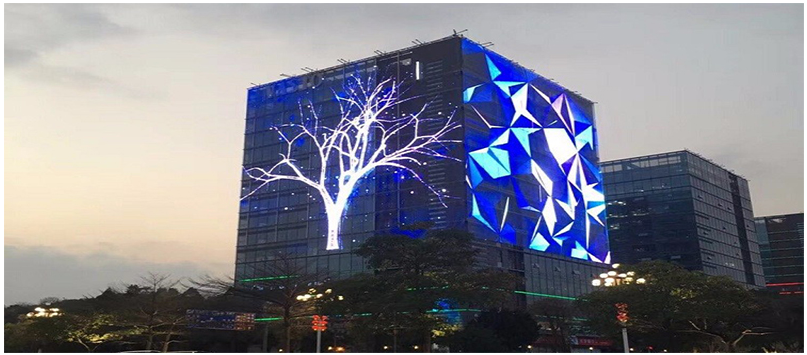 Let's have a look at some of the crucial features of transparent LED display:
·High transparency: Up to 80 percent transparency ratio could keep the interior organic illumination & viewing, the SMD are nearly unnoticeable from a particular distance.
·Light Weight: PCB board is merely 10mm thickness, 14kg/? light weight enable small space for the installation feasible, and reduces the unconstructive impact on the look of the construction.
·Quick installation: Quick lock systems make sure quick installation, saving labor expenses.
·High brightness & power saving: 6000nits brightness makes sure the ideal visual accomplishment even under direct sun ray, with no cooling unit, saves significant energy.
·Easy upkeep : Fixing single SMD without eliminating single module or whole panel.
·Stable & dependable: Stability is pretty essential for this product, under the patent of inlaying SMD into PCB, assure the stability superior than other identical products in the marketplace.
·Wide range of applications: There are a range of full color transparent displays for shopping avenues, banks, theaters, hotels, landmarks, etc.
·High transparency which assures the lighting needs and viewing angel fields among the light-gathering structures, such as floors, glass facades and windows. Therefore it maintains the original light-gathering & transparency of the glass wall.
·Unique displaying effect - Since the background is transparent, the picture just likes floating on the glass wall, so it has a very good advertising & artistic effect.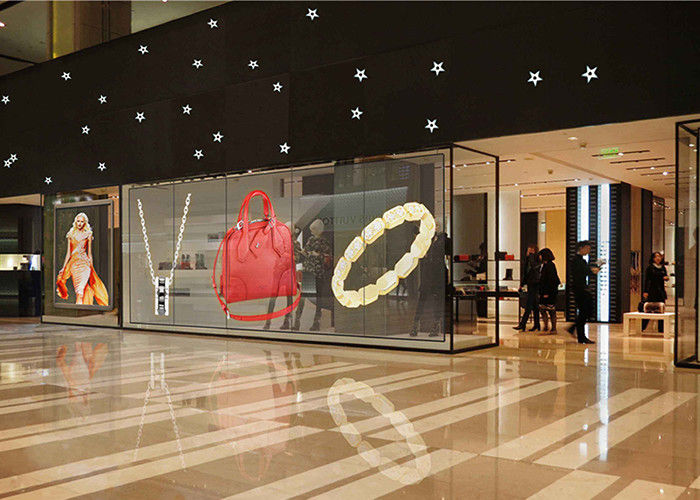 The immerse of transparent LED display not only integrate all the benefits of typical outdoor high-definition LED screen & shop windows to maximize the eradication of load-bearing & beautiful, solute the retail industry window video display issues perfectly. Presently retail showcase for the transparent led banner, not just light, thin, simple to install, but also to accomplish the smallest pixel pitch of 3.9mm & transparent degree more than 80%.
In addition, the design of transparent LED screen advertising content screen, you can remove unnecessary background and replaced with black, only the expression of the desired content is displayed.
So, don't be too late to maximize the revolutionary advantages of transparent LED display.
There are several functions of our ENBON transparent LED Display. Transparent LED screen is the most direct advertising, visitors can directly through the glass window and display to see the store's goods, directly stimulate their buying inclination, thereby enhancing the store's attention rate, Promote the merchandise sales .
Advertising
It can use as advertising tool of the shop and it can help a lot for promotional activities and maximize the effectiveness of advertising
Transparent led screen is widely, it can be used at windows of stores, car 4S shop, high-end clothing store or shopping mall booth and any other theme display function of commercial space. Transparent led screen will more widely using in other places; hope shopkeepers quickly grab this opportunity.
Release information
Transparent led screen is belonging to led display; it can be controlled by computer to playing video, image and text. The shopkeeper can release some promote information, such as discount.
Attract the attention of tourists
Transparent led screen can make glass become transparent display. When the fashionable window "paste" on a huge transparent electronic screen, advertising from static to dynamic, from the dynamic upgrade passers-by "dialogue" shopping experience, this unique, eye-catching design is very attractive.